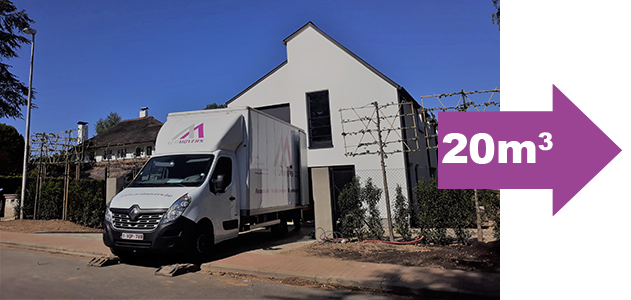 Ground floor or stairs

incl. 4h.
extra 1/2h.

Small truck 20 m3 WITHOUT LIFT

Formule

 Incl. 2 removers
€ 330,00 + VAT = € 399,30
€ 45,00 + VAT = € 54,45
B
 Incl. 3 removers
€ 450,00 + VAT = € 544,50
€ 60,00 + VAT = € 72,60
C
 Incl. 4 removers
€ 570,00 + VAT = € 689,70
€ 75,00 + VAT = € 90,75
D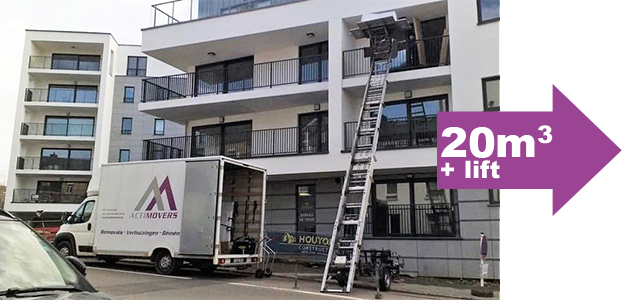 Maximum 8th floor

incl. 4h.
extra 1/2h.

Small truck 20 m3 WITH LIFT

Formule

 Incl. 2 removers
€ 390,00 + VAT = € 471,90
€ 50,00 + VAT = € 60,50
E
 Incl. 3 removers
€ 510,00 + VAT = € 617,10
€ 65,00 + VAT = € 78,65
F
 Incl. 4 removers
€ 630,00 + VAT = € 762,30
€ 80,00 + VAT = € 96,80
G
Our REMOVAL RATES are based on minimum 4 working hours and also include the travelling time.
From our depot, it takes us half an hour to the regions Brussels – Leuven – Mechelen – Gent and half an hour back.
The first 50km are free. Outside that, we charge 1€ per kilometer.
We can also assemble and dismantle your furniture, on your request, our removers will bring along a toolbox.
If we can't agree on the telephone, we can visit you for free, if you want.
Contact us if you have doubts about the removal volume or the type of vehicle you need.
If you doubt about the above-mentioned formulas and you want a fixed price without any surprises, we can always visit you in order to make you an offer, for free.
Do not hesitate and contact us if you doubt about the best formula for you. It will be our pleasure to help you!